Addiction frequently extends beyond the addict and the substance in question; loved ones are regularly caught in the crossfire of another's battle.
Alexia Roditis, the lead singer of the California-based band Destroy Boys, strives to put this conflict into music in their band's latest single, "Drink."
"Music has always been a way for me to process my emotions and experiences," Roditis said. "It's important to me that people like me, who have connections to alcoholism and addiction in their family and friends and themselves, have a song they can listen to for comfort."
Compared to their last single, "Muzzle," whose thrash and abrasive character lasts for a minute, "Drink" is a polar opposite. Lyrically, the latest track seeks to build a more intrapersonal picture of alcoholism and oneself:
Sometimes I see the sun rise
I try everything to calm my nervous mind
I don't wanna let go control
Don't like feeling alone
At least I know what I've seen
These horns run through my family
At least I know
At least I know
"The lyrics came easily," Roditis said. "It's something I have on my mind a lot. [Violet Mayugba] wrote the beginning lines of the chorus, and I just ran with it from there. It was very stream of consciousness at first and I refined it as we went on. I suppose it was challenging to talk about, but it's also something that's kind of taboo that really needs to be talked about."
While Roditis would clarify how the variety between the two tracks wasn't intentional, it showed another step in the band's ongoing evolution: how taking their time with a song can make all the difference.
"We had a lot of time to write and record — we really got to sit down and think about each element individually," Roditis explained. "As we mature, we're writing more complicated songs, like there are lots of moving parts, but there is still an enormous love for shorter and to-the-point songs. Gotta love range!"
While the song has a more traditional framework, the production is top-notch, and it offers a lot to listeners.
I was almost immediately interested in who produced "Drink" when I first heard it; Will Yip, who has been the genius behind some of my favorite bands and albums of all time, came as no surprise when I found out he was behind it. (As a side note, Will, if this article comes across you, please let me interview you!)
Bad production won't always ruin a song, but as Yip's effort shows, superb production can make an already powerful song transcend. Each element of the song feels like it shines, but it all works together to create a cohesive unit rather than being distracting. It's a delicate balancing act that Roditis described as a fantastic experience to be a part of.
"[Yip] brought a lot of interesting elements to the record and his style of producing is not like something I've seen before," Roditis said. "He has a way of bringing the absolute best parts of a song and songwriter out, which is probably why everything he touches is amazing."
That testament rings true for the latest Destroy Boys effort. As so often shown with memorable music, it takes more than just clever lyrics, strong instrumentals, or some brilliant production: it takes a perfect storm of the right elements — much of which extends beyond the realm of music itself.
From the distinctive opening riff to the ridiculously catchy chorus, it seems as if Destroy Boys is finding their stride. Still, Roditis claims that the band's success isn't always easy to acknowledge.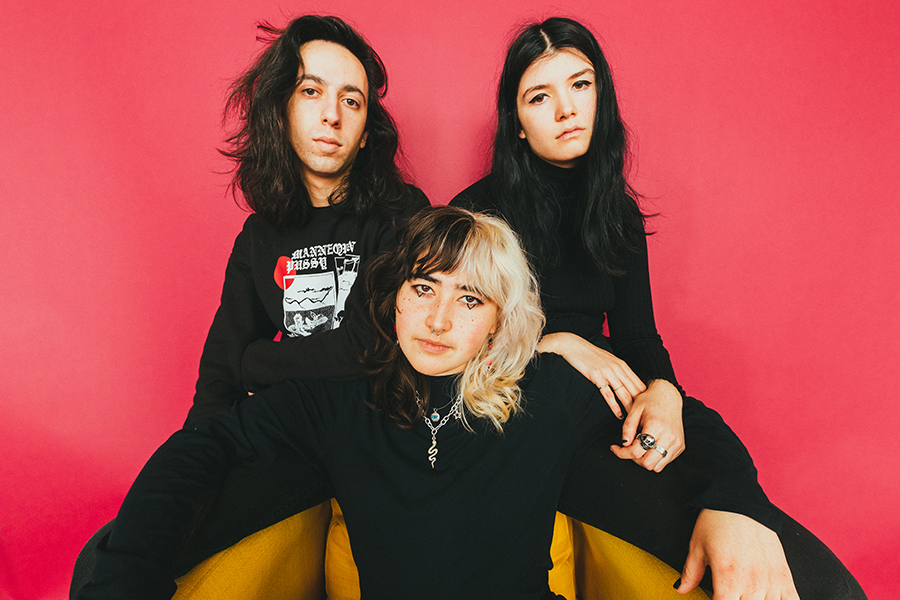 "I'm still frustrated daily by the systems of oppression and general bullshit that is entrenched in the scene," Roditis clarified. "I still don't always feel like I am successful — that I am enough. That has to do with the incredibly high bar I give to myself, which has been influenced by society."
As Roditis would say, the scene is changing.
It took some time for such statements to ring true in a community that has long advocated for unity and solidarity. However, having more queer artists shine is enough to drive them.
"If I can inspire people like me, women, nonbinary people, queer people, POC, or neurodivergent people, to make music or to just do the art that calls to them, it makes me so happy. Like yes, let's take over!"
While the road for Destroy Boys hasn't always been one of ease, "Drink," serves as a reminder that one's battle, whether that be internal or external, is a matter of going day by day, "addiction comes in many forms, and god it is hard to experience and hard to watch happen to the people you love. I wanted to process that, and I think the people around me and the people who listen to it will appreciate the earnestness."